---
COMMON GROUND
European Cultural Foundation
Magazine
285 × 195 mm / offset print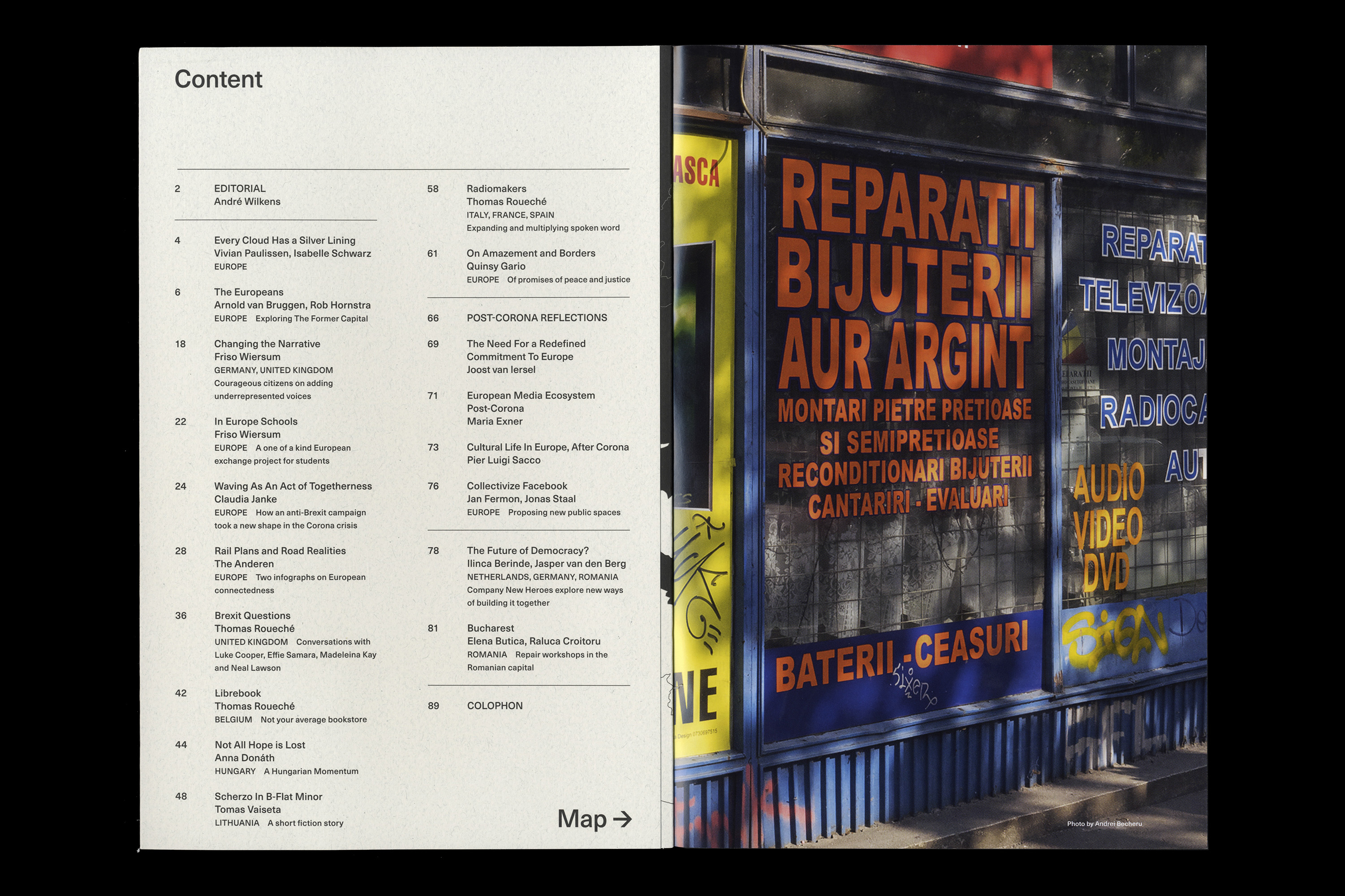 The first issue of Common Ground, what will be annual magazine of the European Cultural Foundation, created to celebrate Europe Day. Europe Day is celebrated on May 9, since on that date in 1950 a statement (the Schuman declaration) was made by French foreign minister Robert Schuman. It proposed to place French and West German production of coal and steel under one common High Authority. This organization would be open to participation of other Western European countries. This cooperation was to be designed in such a way as to create common interests between European countries which would lead to gradual political integration, a condition for the pacification of relations between them. It was the beginning of what would become our current European Union.

Robert Schuman: 'Europe will not be made all at once, or according to a single plan. It will be built through concrete achievements which first create a de facto solidarity.'


---
WHEN WATER TAKES OVER
Art-Connects
Poster
440 × 300, 800 × 600 mm / giclee print
Art-Connects is a platform created by Marc Haers that sells art for a better cause. 75% of the profit goes to a charity of the buyers choice. With buying art you contribute a (tiny) bit to a better world. 'When water takes over' is inspired by a diving trip where I plastic decorated corals, and dolphins throwing plastic bags to eachother. It imagines an ocean in it's purest form.


---
CULTURE OF SOLIDARITY
European Cultural Foundation
Visual, logo
Divers / digital
The Culture of Solidarity fund was brought to live by the European Cultural Foundation during the COVID-19 lockdown in Europe. The Fund supports imaginative cultural initiatives that, in the midst of the global pandemic crisis to reinforce European solidarity and the idea of Europe as a shared public space.


---
THE FLOOD
Self-initiated
Poster
700 × 500 mm / screen print
1 on 5 Dutch inhabitants thinks that in fifty years from now, most of the Netherlands will be underwater. This says the result of a survey done by Waterschappen and Rijkswaterstaat. The Flood is a series of five screen prints inspired by the 1953 flood disaster, when dikes broke and many people lost their homes or even their life. But also by the future prospects for the Netherlands if we do not tackle the climate problem now. It is an abstract translation of an all-consuming flood. Maybe not in fifty, but definitely in about a hundred years, the melting ice and rising water will become very problematic for the infrastructure and the water management of Holland. It's quite concerning how all climate measures are constantly pushed forward or put aside because it does not benefit to our economic system at that specific time.