Le Mini Who?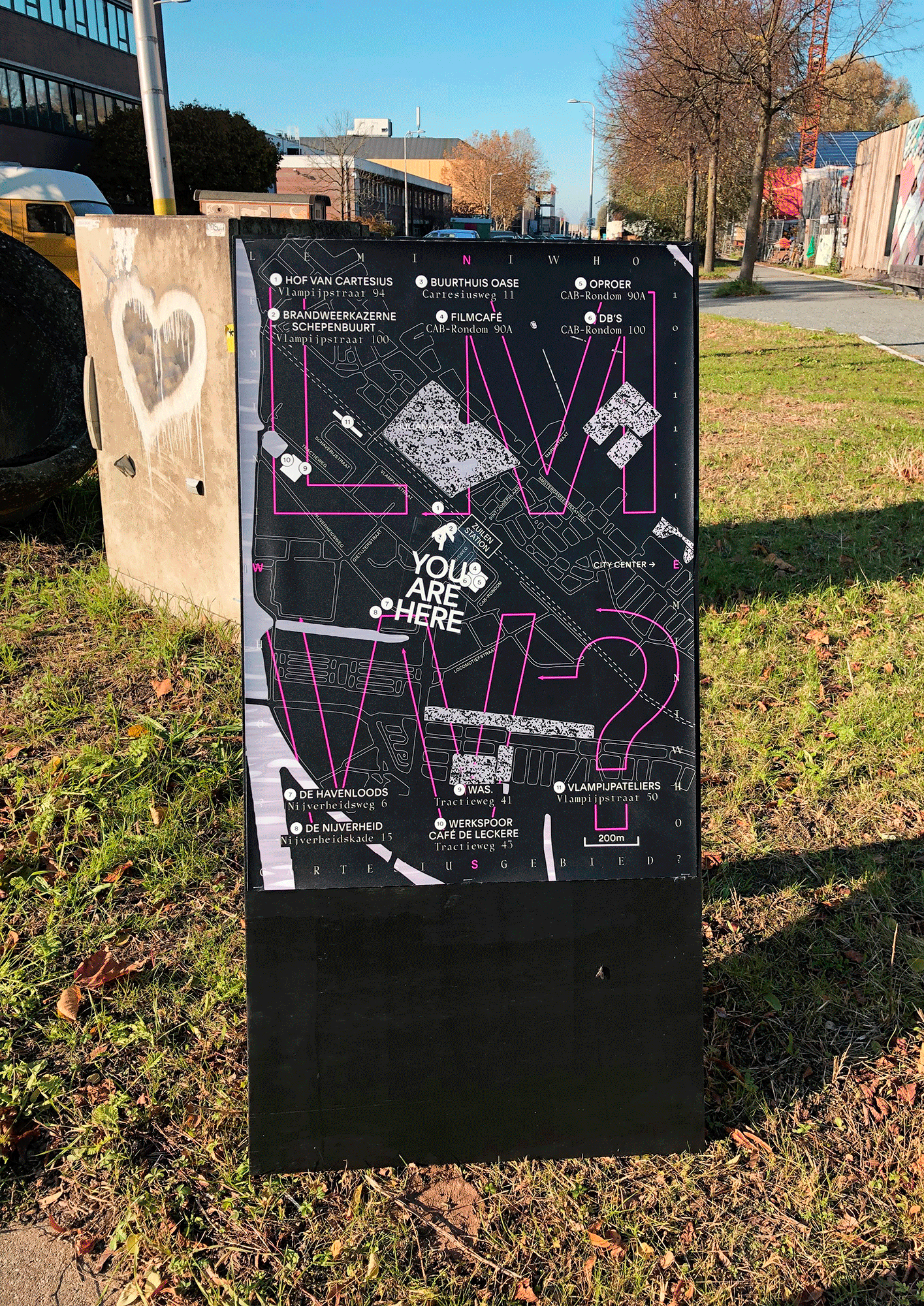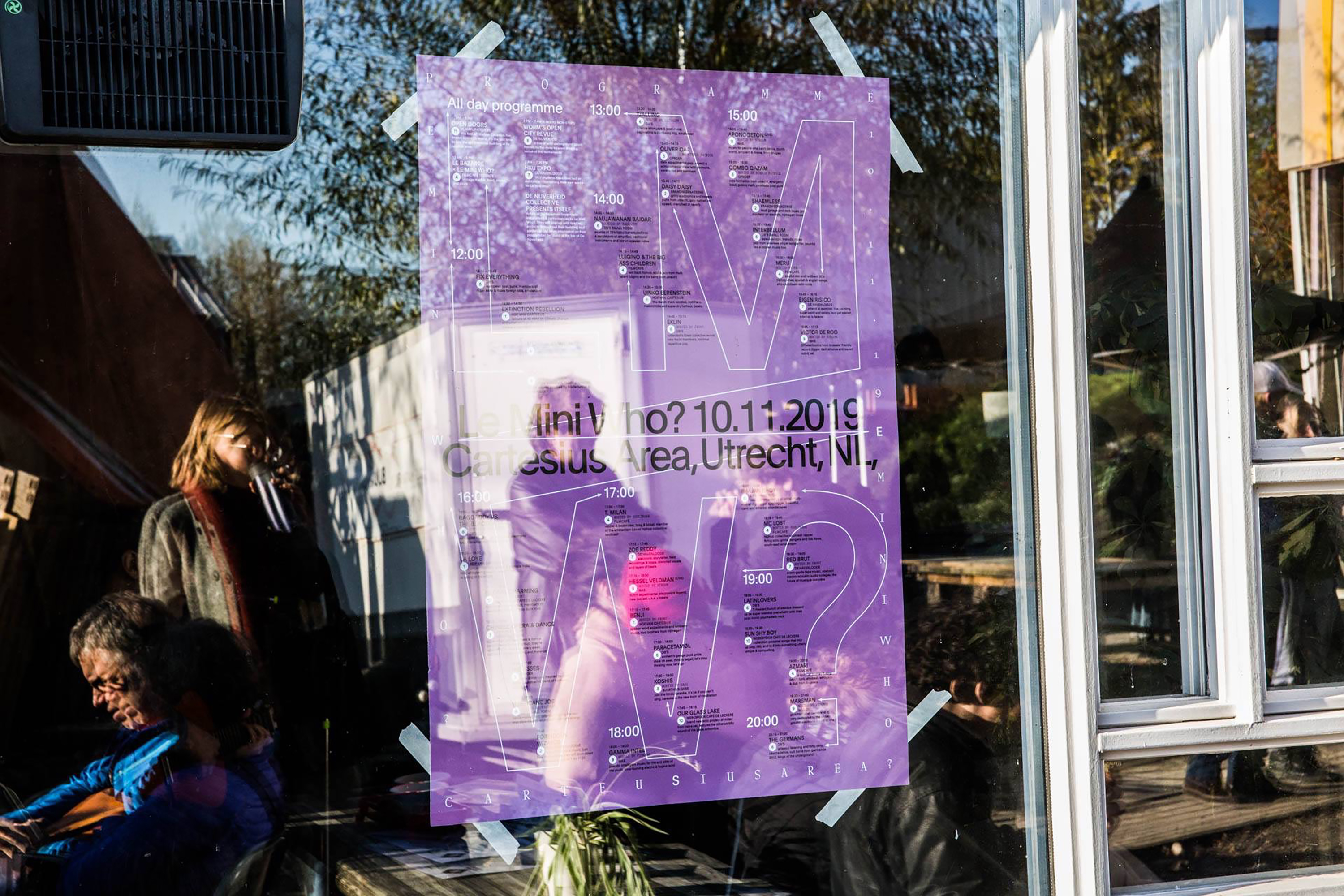 C
On the Move

The free day part of the music festival Le Guess Who? The thriving neighbourhood around the Voorstraat (Utrecht,NL), is transformed into a downtown festival. Unknown upcoming band play in local venues like shops and bars. This year the festival moved to another part of the city, which became the inspiration for identity for the festival. The map and the arrow as functional elements and as well as aesthetics. Signs designed together with and build by Triomf. Last photo by Sabrine Baakman.

Contains: posters, banners, program
(part of LeGuessWho? program)
Size: A6, A1, A2, A3
Material: offset print and digital print
Year: 2019

Koninklijk Paleis Amsterdam

Royal Award for Modern Painting



The Royal Award for Modern painting is a prize given by King to young talented painters. The prize has a long history and already exists since 1947. The winners of 2019 were Leo Arnold, Cian-Yu Bai and Machteld Rullens. Together with them twelve other participants were chosen to exhibit their works. The exhibition takes place in Paleis op de Dam, which is the palace in the city centre of Amsterdam, a beautiful decorated building build between 1648 and 1665 as city hall based on the design of the architect Jacob van Campen. The exhibition forms an interesting contrast with the building. The contemporary paintings in a very classical environment. The design of the catalogue plays with these contrasts and the silver images in it are based on the statues in the palace.


Contains: publication
Size: 190 x 245
Material: offset print + foil + 2 PMS
Year: 2019

Black liberators: African-American soldiers in the Netherlands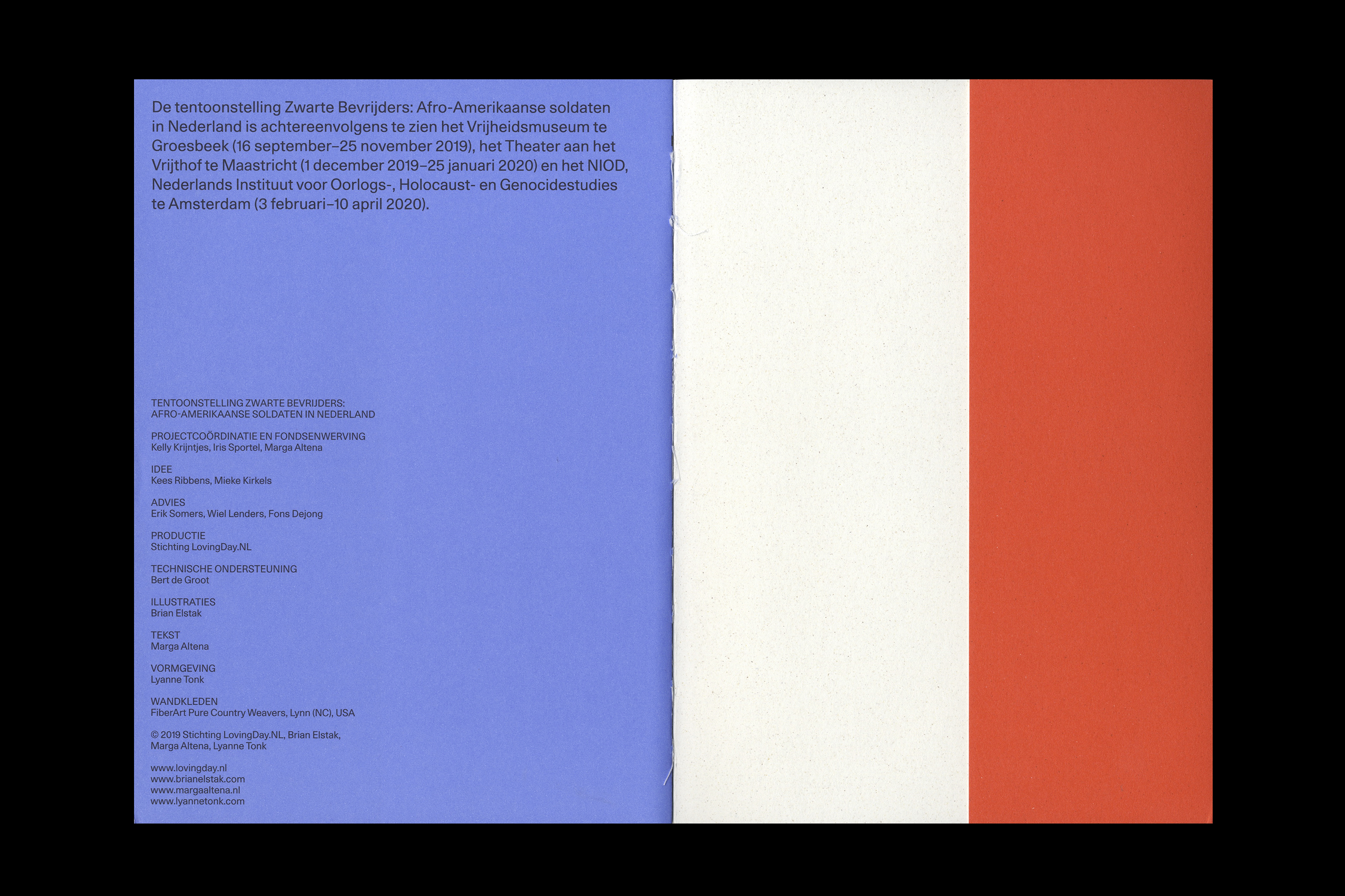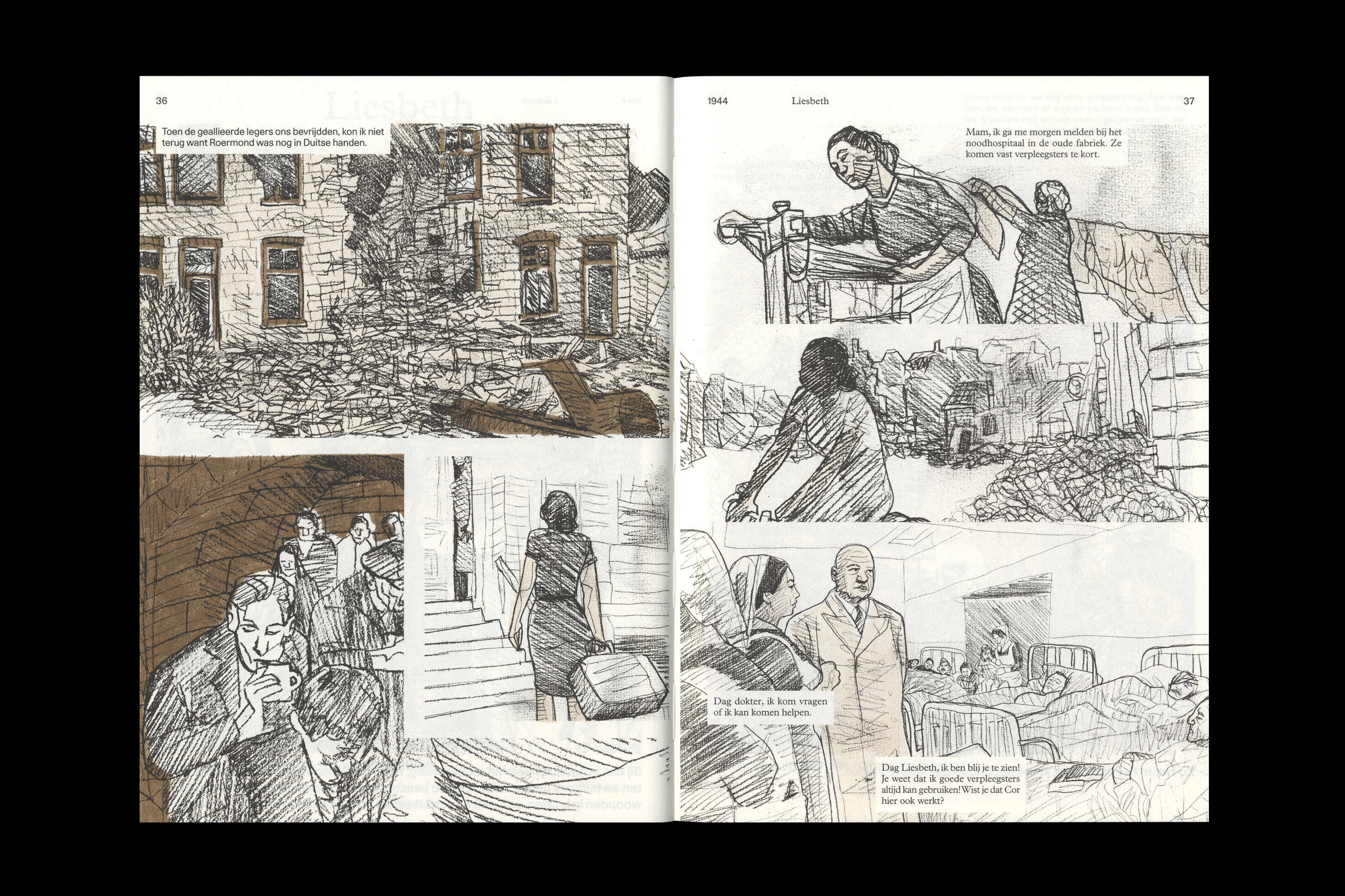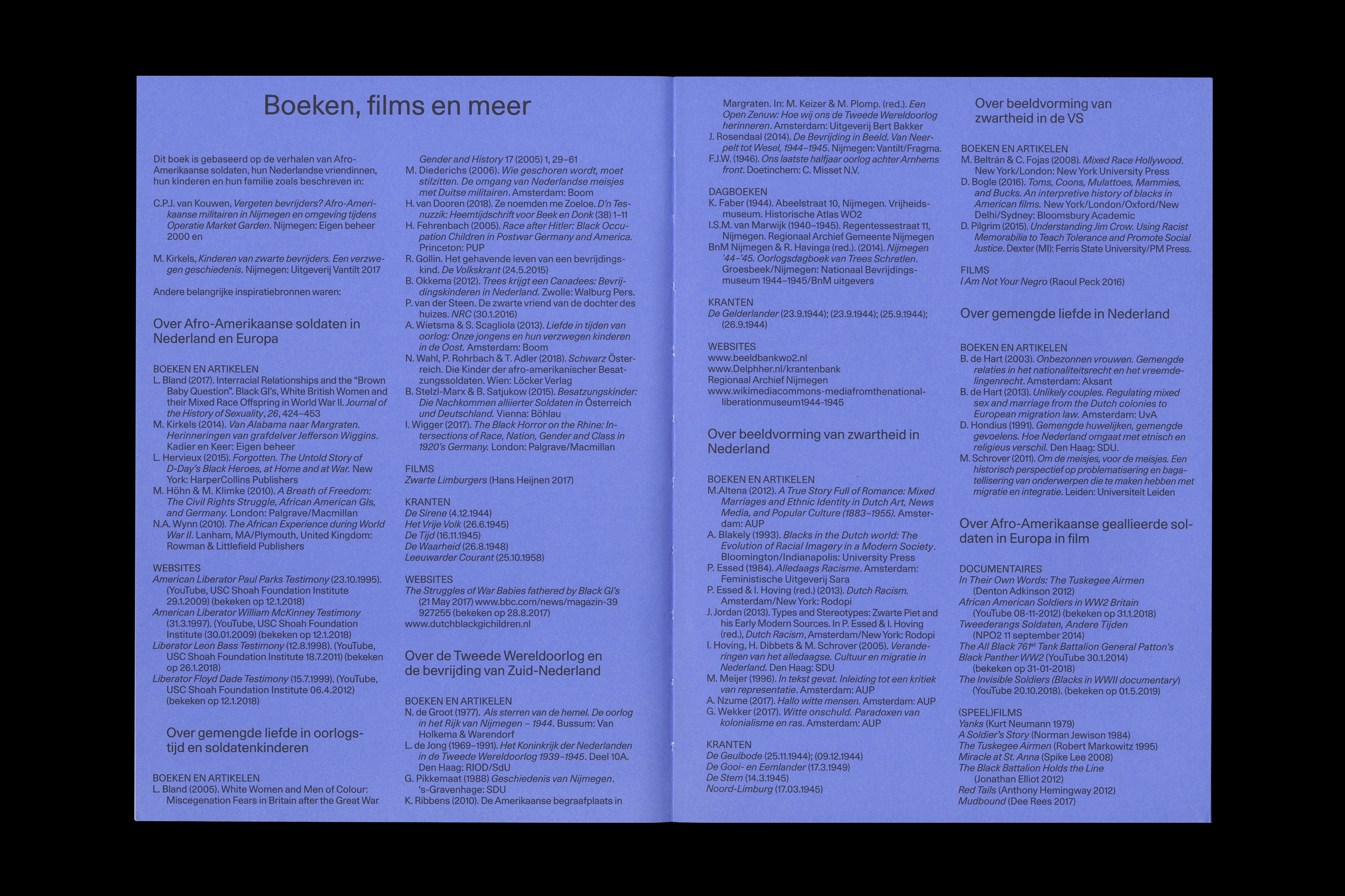 Franklin: Een Nederlands bevrijdingsverhaal
When the Dutch are asked about the soldiers who liberated the Netherlands in 1944 and 1945, they think of white American, Canadian, English, and maybe of Polish soldiers. People are often unaware that about 10% of the American army consisted of black soldiers.
African American soldiers were usually deployed in Quarter Masters Service Companies, but they were also present at the front. Despite their merits, black liberators have disappeared from Dutch collective memory, historiography and from national commemoration.
An exhibition and graphic novel were created to tell this hidden part of history. In the exhibition, six tapestries with supporting historical documentation depict various chapters in the history of African American soldiers, focusing on the Netherlands. The graphic novel, 'Franklin: Een Nederlands bevrijdingsverhaal', tells the love story of Franklin and Liesbeth. It traces back a history, but also shows why it stills plays a role now.
The exhibition travelled in the Netherlands from Bevrijdingsmuseum, Groesbeek, to Vrijthof, Maastricht to finally NIOD, Amsterdam.
With: initiator/writer Marga Altena and artist
Brian Elstak
.
Contains: poster, book, carpets
Size: 155 x 215, 1778 x 1372
Material: offset print and weaving
Year: 2019
Société jurassienne d'Émulation



C
Les secrets de différents auteurs mis en amas pour l'utilité du public par Hermann Voirol



Transcription of a 19th century manuscript by Hermann Voirol (1775-1859), a pharmacist established in the Swiss village of Les Genevez, who collected notes and receipts to heal humans and animals. The author added a detailed introduction to the original text, as well as indexes allowing the reader to easily look for a symptom, a disease or a cure.


With: Dimitri Jeannotat
Contains: book
Size: 315 x 210
Material: offset print + foil
Year: 2018

Das Mag
C
Midprice series

Template design developed for publishing house Das Mag, to be able to reprint novels in a low budget series. Every book has a different pattern, icon and color, relating to the inside of the book. The cover is cut of on the front and because of that the pattern is popping out underneath. The spine also has the same pattern, but the coloured version, which creates a visual range if they stand on a shelve together.

Contains: book
Size: 115 x 175
Material: offset print
Year: 2019