Robin Alysha Clemens & Lisa Weeda (newspaper) 2018
C
Oselyata
Newspaper for the project of photographer Robin Alysha Clemens and writer Lisa Weeda about ex-homeless community Oselya in Vynnyky, Ukraine:
Fifteen years ago, a group of men and women built a house on Ivana Franka street in the Ukrainian town of Vynnyky. The house was created in order to help the homeless, and people with a history of substance abuse. There is room to sleep, to eat, to bathe and to work. The community calls itself 'Oselya', meaning home. The residents of this place call themselves the 'Oselyata'. Right now, around twenty men, three women and two children - one born on the premises - live in the home of Oselya. They live together in harmony, share bedrooms, have breakfast, lunch and dinner together. They are not allowed to drink or have sex. They work, they follow the daily schedule, and they have a weekly meeting every Monday morning. Oselya is part of the international Emmaus network, a solidarity based movement that consists of residential communes and second hand stores all over the world.
Robin and Lisa followed, lived, observed, learned from and about the community for a period of time. The publication focusses mainly the positive spirit there is, and the group that they became.
Contains: newspaper
Size: 265 x 385
Material: rotation print
Le Mini Who? (artwork) 2018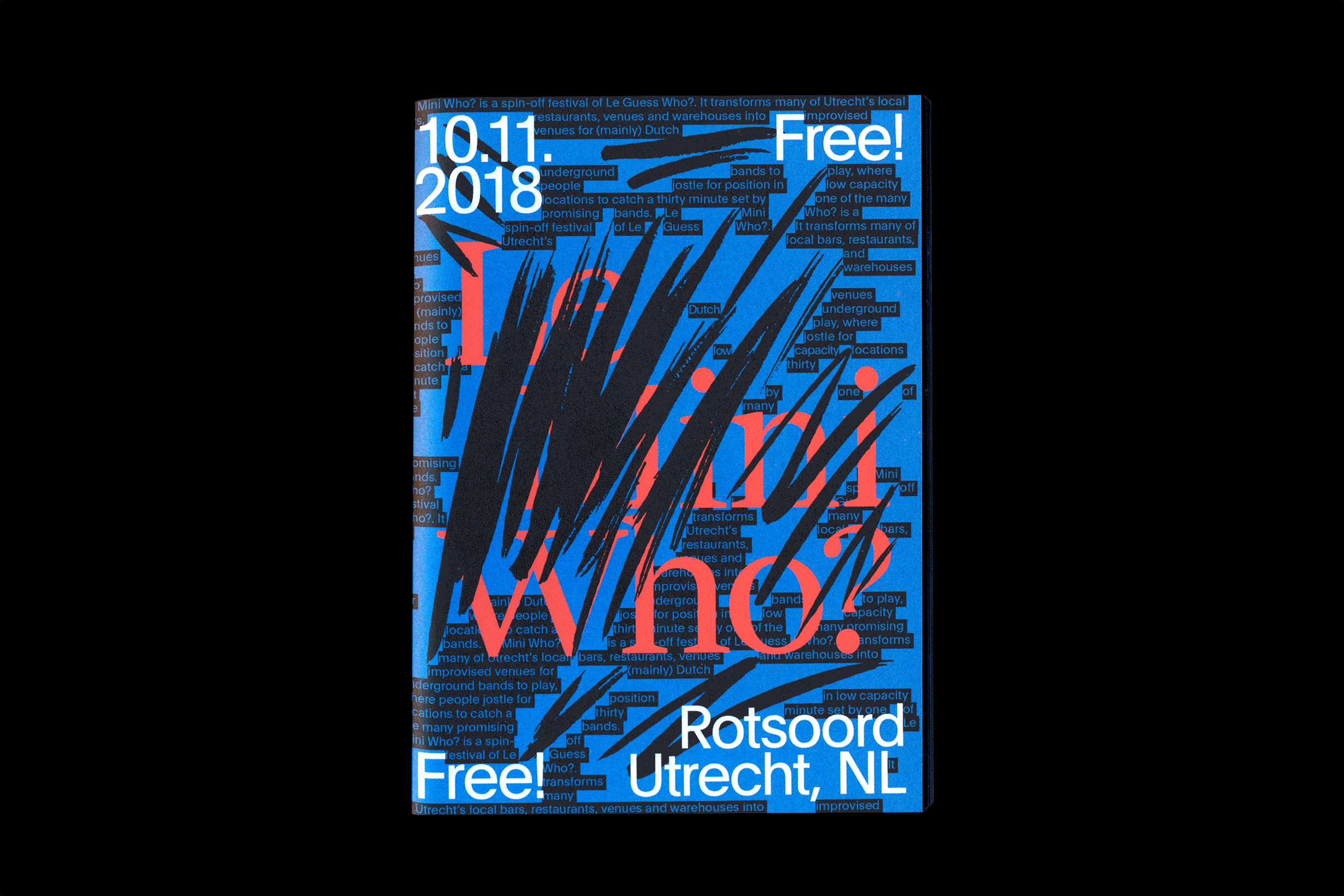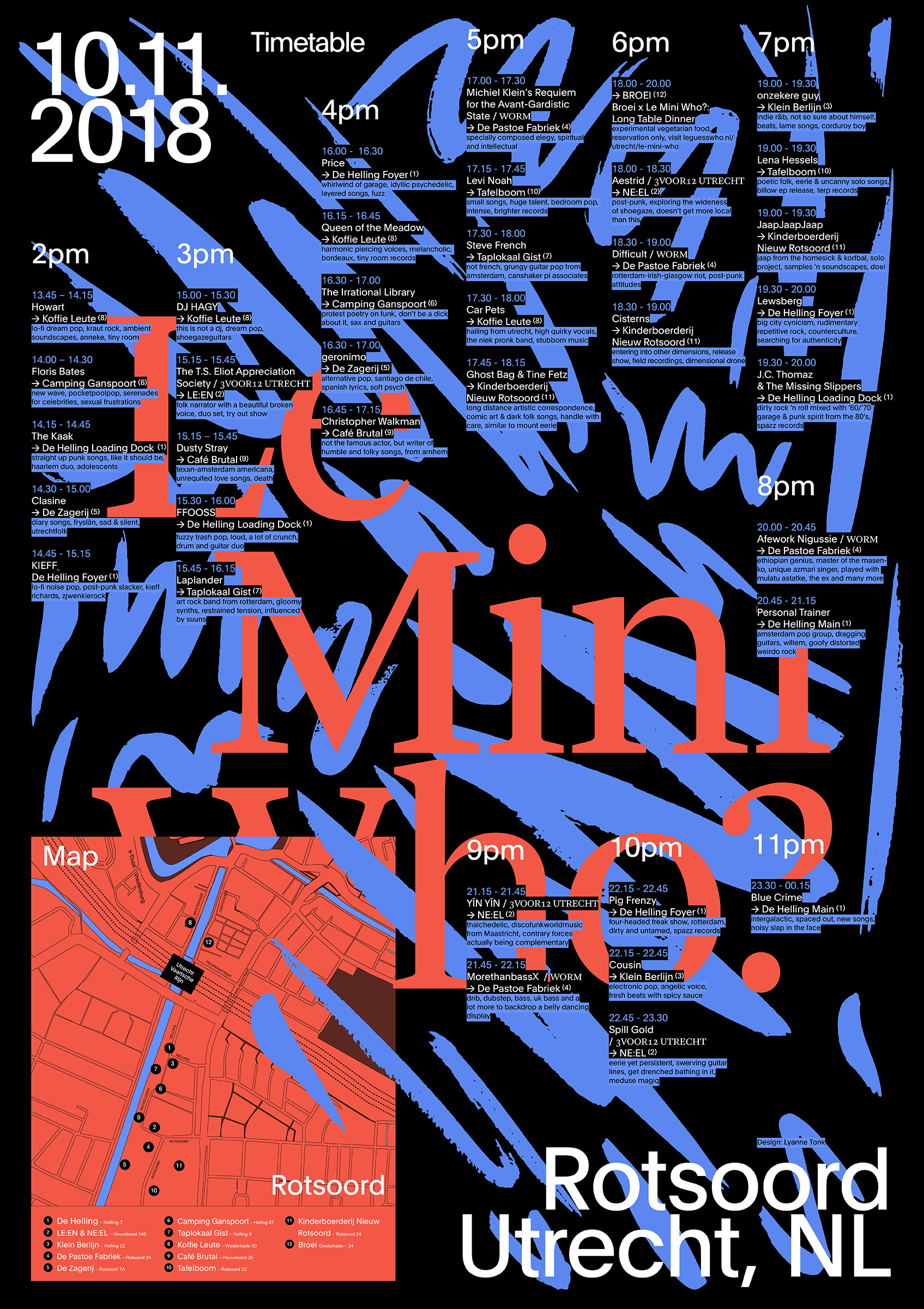 C
Music score

The free day part of the music festival Le Guess Who? The thriving neighbourhood around the Voorstraat (Utrecht,NL), is transformed into a downtown festival. Unknown upcoming band play in local venues like shops and bars. The identity changes every year and this one is inspired by all the not-so-well-known-yet, diverse and more experimental sounds that you can hear. Using the very creative and poetic descriptions, that are used to express what kind of music it is, also in the visuals.

Contains: posters, banners, program
(part of LeGuessWho? programm)
Size: A6, A1, A2, A3
Material: offset print and digital print

Das Mag (book) 2019
C
Nachtouders
'Nachtouders' (nightparents) is a novel written by Saskia de Coster. Saskia and Juli and their one year old son are going to a Canadian hippie island where Karl, the boy's biological father grew up. They end up in a wifi-free world where nature dictates and where the islanders share a painful secret about Karl. For Saskia everything comes under tension: her relationship with Juli, her friendship with Karl, her writing skills. And she aks herself if she actually can be a real mother, as a non-biological parent.

Contains: book
Size: 135 x 210
Material: offset print

De nieuwe feministische leeslijst

'De nieuwe feministische leeslijst' (The new feminist reading list) is a collection of hymns and caveats with old and new heroes, radical thinkers, gentle loners and dreamers and drammers such as Sylvia Plath, Maggie Nelson, Clarice Lispector, Renate Dorrestein and Audre Lorde. With essays by Niña Weijers, Mounir Samuel, Bregje Hofstede, Franca Treur, Fiep van Bodegom, Roos van Rijswijk and Clarice Gargard, among others, compiled by Marja Pruis.

Contains: book
Size: 135 x 210
Material: offset print+foil

De Speld (book) 2018
C
De Speld. 2018: Een jaar
De Speld is a satirical online news magazine founded in 2007. The book 'De Speld. 2018: Een jaar' is a best-of selection of the articles of the year 2018.
Contains: book
Size: 150 x 200
Material: offset print
Thirty Shots (artwork) 2018
C
Influencer marketing

Thirty Shots is an initiative of My Daily Shot of Culture and Buro Thirty. They share knowledge about (influencer) marketing in the cultural sector.

Contains: artwork & Logo
Material: Digital