Société jurassienne d'Émulation



C
Les secrets de différents auteurs mis en amas pour l'utilité du public par Hermann Voirol



Transcription of a 19th century manuscript by Hermann Voirol (1775-1859), a pharmacist established in the Swiss village of Les Genevez, who collected notes and receipts to heal humans and animals. The author added a detailed introduction to the original text, as well as indexes allowing the reader to easily look for a symptom, a disease or a cure.


With: Dimitri Jeannotat
Contains: book
Size: 315 x 210
Material: offset print + foil
Year: 2018

Orde & chaos
Vader des vaderlands
Father of the Nation, is a contribution to the exhibition 'Orde & Chaos (Order and Chaos)' in Amersfoort, the Netherlands. The exhibition celebrates Johan van Oldenbarnevelt, who got beheaded on the 29th of may, 400 years ago. He still counts among the greatest statesmen in Dutch history, as the builder and founder of the Dutch state. He to played a strategic role, aside of the king, in which he managed to make the separated unions that existed into a unity. Vondel, a legendary Dutch poet, despised what happenend and wrote a critical poem about the beheading. A fragment can be found on the border of the print, in which strategy and history are weaved together.
Contains: print
Size: 594 x 420 (A2)
Material: silkscreen
Year: 2019
For sale →
here
NOS Oog op morgen, 2019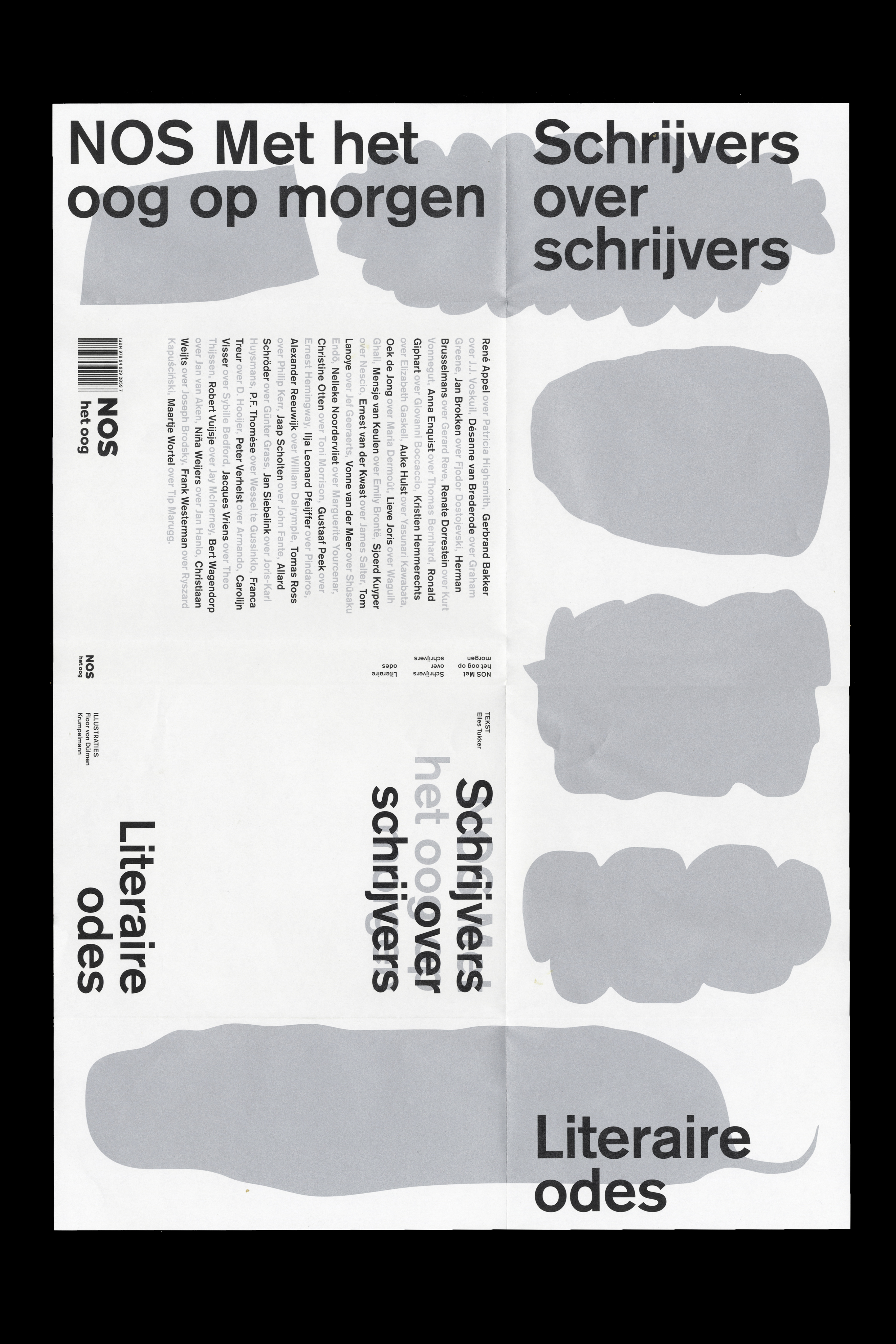 C
Schrijvers over schrijvers

'NOS Oog op morgen' is a radio show from the NOS, the televison channel for news in The Netherlands. Schrijvers over schrijvers (Writers on writers) is a publication that consists of fragments taken from the radioshow, in which writers were asked to tell about their favourite writers.

Text: Elles Tukker
Illustrations: Floor von Dülmen Krumpelmann

Contains: publication
Size: 190 x 125
Material: offset printing
Year: 2019




European Cultural Foundation
C
Action Grant

Visuals for the action grant campaign of the European Cultural Foundation. A grant to stimulate thinking, discussing, imagining, building and creating a better Europe. I was very pleased to find out that some of the visuals i made could not be used, since, thanks to many pro-Europeans, the open call was so succesful that they had to close the admission possibility more early then expected.

Contains: visuals
Size: divers sizes
Material: digital images
Year: 2019

Robin Alysha Clemens & Lisa Weeda
C
Oselyata
Newspaper for the project of photographer Robin Alysha Clemens and writer Lisa Weeda about ex-homeless community Oselya in Vynnyky, Ukraine:
Fifteen years ago, a group of men and women built a house on Ivana Franka street in the Ukrainian town of Vynnyky. The house was created in order to help the homeless, and people with a history of substance abuse. There is room to sleep, to eat, to bathe and to work. The community calls itself 'Oselya', meaning home. The residents of this place call themselves the 'Oselyata'. Right now, around twenty men, three women and two children - one born on the premises - live in the home of Oselya. They live together in harmony, share bedrooms, have breakfast, lunch and dinner together. They are not allowed to drink or have sex. They work, they follow the daily schedule, and they have a weekly meeting every Monday morning. Oselya is part of the international Emmaus network, a solidarity based movement that consists of residential communes and second hand stores all over the world.
Robin and Lisa followed, lived, observed, learned from and about the community for a period of time. The publication focusses mainly the positive spirit there is, and the group that they became.
Contains: newspaper
Size: 265 x 385
Material: rotation print
Year: 2018